Class Demonstrators Wanted for Yeovil
Are you quick to pick up dance moves, based in the Yeovil area and available most Wednesdays? If so please get in touch to join our team as a demonstrator! You might even like to train to become one of our class teachers. Please send a message via our Contact Form.
If you came to this page by mistake and/or you just want to book a free trial for our new Yeovil Absolute Beginners Course, please visit this link.
The Swing Dance Company is bringing its new 10 week courses to Yeovil for the first time this month. Our lead instructor is all set to go, but we're looking for at least one class demonstrator to partner them, along with volunteers to join the team.
Join the Yeovil Team as a Demonstrator
In particular, we're looking for help with our new Yeovil classes on Wednesdays at Westlands from 30th January. This could be a paid role or a voluntary role with benefits, depending on a variety of factors. Please get in touch via our contact form so we can discuss.
The Yeovil classes are the latest addition to our Swing Dance Portesham franchise that launched in Autumn 2018 with classes in Weymouth, Dorchester and Bridport.
An Able Dancer from Any Discipline
This role would suit an able dancer from any dance discipline, whether you have experience in ballet, tap, modern, jive, swing, ballroom or latin it shouldn't matter. In a pre-term training session you will gain the skills needed to demonstrate on our Absolute Beginners SwingJive course.
You can see the moves that you would be demonstrating on this video
Our lead teacher, Nicki, takes full responsibility for the classes so there would be no expectations on the demonstrator to contribute beyond stepping through the moves in class. Opportunities do exist for anybody who wishes to train to a higher level and teach in the future.
Age & Gender
Please get in touch regardless of age, gender, orientation etc. We would particularly like to reinforce that many of our successful teachers and demonstrators are in the second half of their main careers, or even retired, so age is no barrier. Equally this demonstrator role may provide valuable work experience for student age dancers or those looking to start a career in dance. The minimum age for this role is 18.
More important than these factors is whether you have a fun and friendly character that would fit in with the ethos of the dancers in our company.
Developing for the future
Interested in teaching classes, or even taking on your own licence to run classes? Starting out as a class demonstrator could be a stepping stone to greater things in the future. Please get in touch via our Contact Form for more details.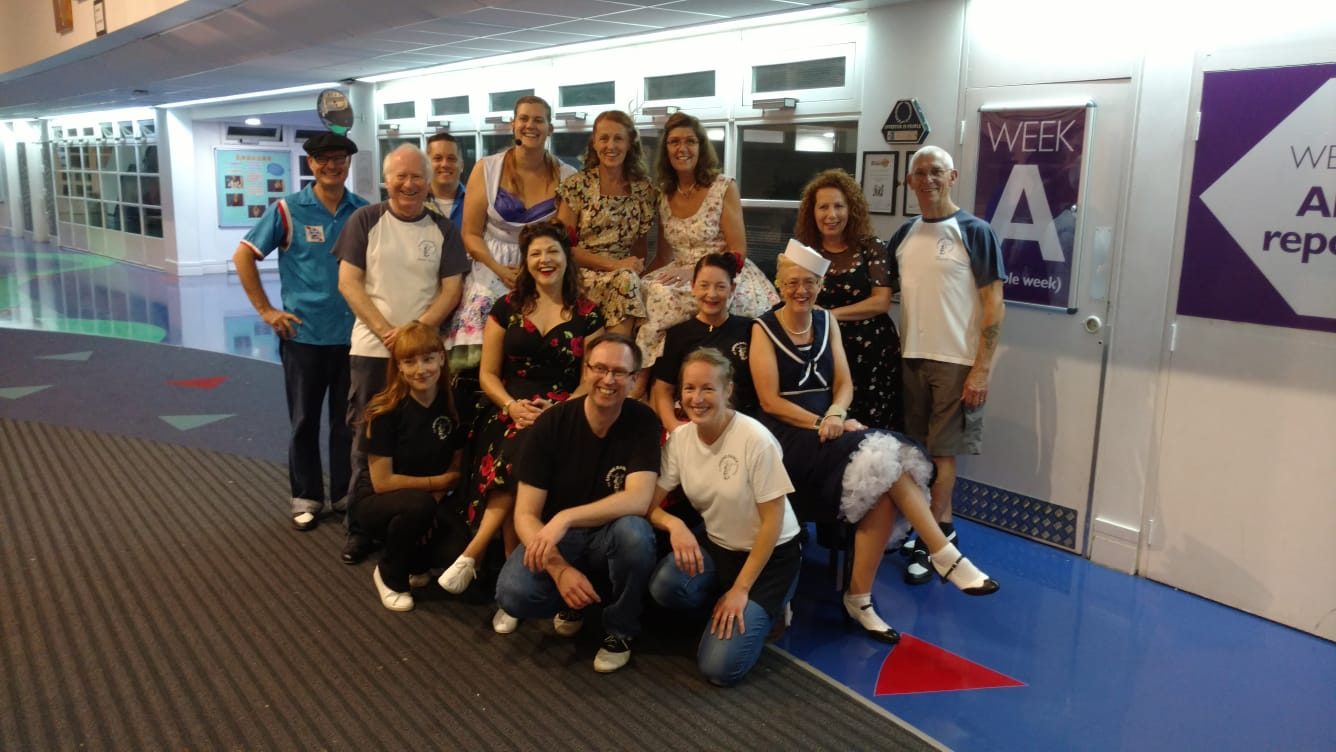 If you're not interested in joining the team but you would like to participate in an Absolute Beginners SwingJive Course, please book via this link.